We're All Experts in our Field!
A great team is necessary in a company like ours. We pride ourselves on only hiring experts – every person on our staff has LIVED their job for many years, and can utilize their amazing skills foryou, the inventor.
Take a look below, and meet our staff:
Ed Mauro
Founder and Inventor Support
My name is Ed Mauro, and I am the founder and head of inventor support for Source Direct. I have invented many successful products in my many years of experience, and I am excited for the opportunity to help you do so! We've assembled a dream team of engineers, marketers, designers, manufacturers, sales professionals, and inventor support associates to get you from concept to completion efficiently and effectively! Check out my video below, and get to know our staff a bit more. Source Direct is a team of expert professionals, so you'll be taken care of!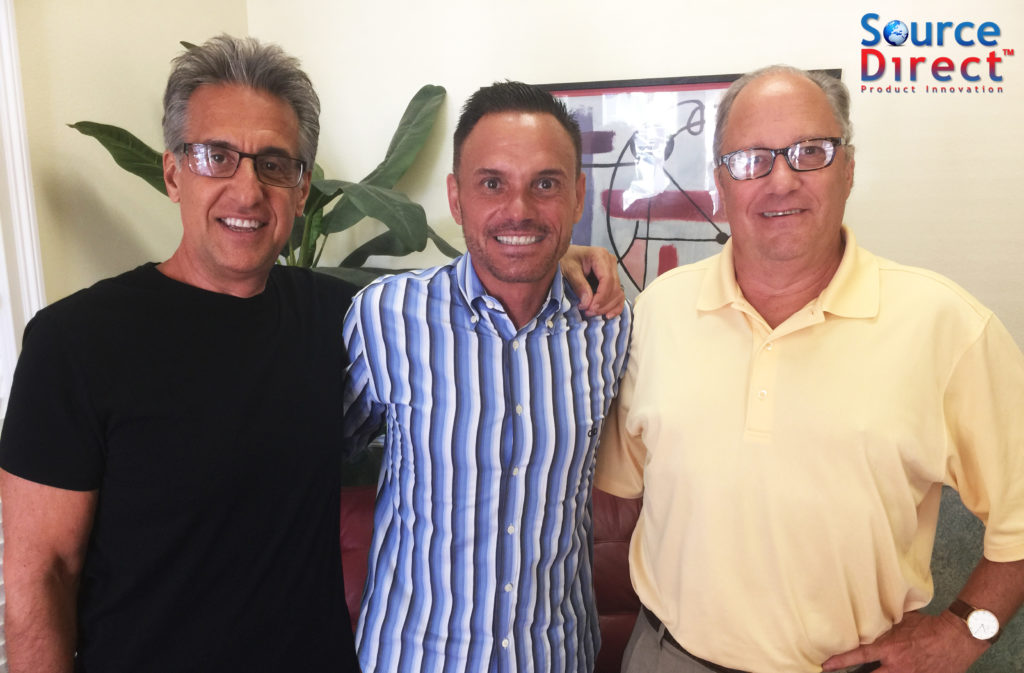 Krista Mauro
Logistics Manager
Education/Experience: 20 Years experience in Supply Chain Management & Logistics
Describe your primary job at Source Direct: It is my job to negotiate and secure not only the best possible rates for our Source Direct clients, but to track and monitor all the moving parts that go along with each shipment. I work directly with both the U.S. and Foreign side logistical agencies to import our products as well as work with in house customs brokers to properly identify, classify & assign each product before it can clear US customs and enter our country.
Bio:I have worked in the industry for over 18 years. The procedures, polices, requirements and rates in logistics are constantly changing so this requires me to maintain a constant and ongoing knowledge of all aspects to allow Source Direct to offer the best services to our clients. Outside of my business responsibilities, I enjoy outdoor activities such as cycling and swimming, traveling and spending as much quality time as possible with my Husband of 15 years and our 3 daughters.
Favorite Quote to Live By: "Continuous learning is the minimum requirement for success in any field" – Dennis Waitley
Medisa Pelak
AdministrationManager
Education/Experience: 4 years of experience with Organization, Accounting, Data Entry Skills, Financial Software, Analyzing Information
Describe your primary job at Source Direct: I have the responsibility of ensuring that the administrative activities within the organization run efficiently. Assure customer accounts are current and in good standing.
Bio: I was Born in Bosnia but have spent most of my life in Florida! I am a wife and a mommy. I live for my family and close friends. I love the outdoors and discovering new places
Favorite Quote to Live By: "Focus on the powerful, euphoric, magical, beautiful parts of life. And the universe will keep giving them to you."
Nathan Daugherty
Marketing & Creative Director
Education/Experience: 8 Years of Experience with Networking, Marketing, Design, and eCommerce.
Describe your primary job at Source Direct: I am the very first person that inventors speak to! I pre-qualify new inventors, and then help them start their journey to invention success! Then, once their product is ready, I am in charge of selling it for them (if they so choose!). My job is to get their product in front of the business buyers and consumers. I'm also the host of the Source Direct Inventing Experts Podcast.Also, I oversee all marketing design for Source Direct, including Packaging, Sell Sheets, Videos, Crowdfunding, Social Media – everything that helps your product stand out!
Bio: I have been in the inventing industry for 3years, but I've been working in marketing and design for 8 years! I come from an entertainment industry background, so I know the importance of promotion and looking your best! I've helped sell over 20 different products in the big box retail world in many diverse product categories. In my spare time, you'll find me directing or performing in musicals as well as spending days at home with my wife and fur kids.
Favorite Quote to Live By: "The best way to predict the future is to create it." – Peter Drucker
Jerry Pineda
Project Director
Education/Experience: 5 Years experience leading teams around the world developing and publishing 426 Apps. 15 years experience working directly and indirectly with consumers to help address their needs in various markets.
Describe your primary job at Source Direct: Once we accept your idea or prototype, I help assure it moves through the entire process working with our team of experts to bring your idea into the market with the highest probability of success.
Bio: I am a dedicated family man, health and fitness enthusiast, gamer and all around good guy who loves helping people. I have always been intrigued by inventions and gadgets and how one idea could change the world. I want to be on the forefront of that next great product from the napkin drawing to manufacturing thousands of units for people to use. That just might be you!
Favorite Quote to Live By: "Our greatest weakness lies in giving up. The most certain way to succeed is always to try just one more time" – Thomas A. Edison
Jack Smith
Lead Engineer
Education/Experience:BS in Engineering, 20 years in Mech. & Electrical Design, 10 years in plastics, 15 years as blue collar employee, in machine shop and
manufacturing. Over 20 extended certifications in multiple educationalprograms.
Describe your primary job at Source Direct:Applying cutting edge engineering technology, science and inventive imagination to your inventions.
Bio:I have worked with teams designing plastic production lines, 4 years in RD in plastic products; film, blow mold, extrusion and injection mold, designed state of the art equipment for the semiconductor industry, designed
trucks and containers for the intermodal industry, designed arcade machines, and designed in the architectural field. I am a certified trainer and I have trained personal and students at universities and companies like Intel Corp.
Favorite Quote to Live By:The grass is always greener on the other side, but it will not taste any better.
By: Jack: and if you have to ask why the grass is greener, what makes grass green?
Carl Damgaard
Lead Engineer
Education/Experience: I have been in the mechanical engineering field for over 30 yrs.
Describe your primary job at Source Direct: Applying cutting edge engineering technology, science and inventive imagination to your inventions.
Bio:I have been involved in the design and developed of products that fly at over 50,000 ft. above the earth and operate in the oceans at over -600 ft. deep. I feel very fortunate to be involved in so many interesting projects thoughout my career. I've been responsiblefor product design and development for 10+ years.
Favorite Quote to Live By: But the fact that some geniuses were laughed at does not imply that all who are laughed at are geniuses. They laughed at Columbus, they laughed at Fulton, they laughed at the Wright Brothers. But they also laughed at Bozo the Clown. –Carl Sagan
Autumn Kuney
Marketing Assistant/Social Media
Education/Experience: I have 6 years experience in customer service and sales. I attended Jackson College Michigan for business administration where I discovered my true passion for business and marketing.
Describe your primary job at Source Direct: I help our Marketing Director with all daily tasks for Source Direct and it's inventors! I take care of social media accounts as well as marketing promotions for products. You'll chat with me when it's time to take your product to the next level on Facebook, Twitter, Instagram, and more!
Bio: I moved from Adrian, MI to Florida 3 ½ years ago on a whim to experience all that life has to offer. I truly enjoy spending my time alone and painting. I am very close with my family and friends and love to visit up north as often as I can to spend time with them.
Favorite Quote to Live By: "I am thankful for my struggle without it I wouldn't have stumbled upon my strength."
Amanda Beard
Internet Sales and Advertising Manager
Education/Experience:5 years of customer service; 2 in retail and 3 years in management.
Describe your primary job at Source Direct:I assist with managing the PPC advertising for Source Direct! I present our company to inventors and build the bridge for us to help! I also make sure that your products look good online. It's my job to open doors, ensuring that your invention gets listed with great companies and that it is consistently presented properly to the public.
Bio:I have been in the marketing/advertising world for almost 2 years and in the customer service business for over 5! From managing and maintaining to presenting and servicing – all of my experience comes into play with my position. When I'm not knocking on the doors of potential buyers and inventors, I'm usually spending time at home with my family or I'm out adventuring with my friends. My dream is tocontinue my career with marketing by furthering my education, which I hope to accomplish this year.
Favorite Quote to Live By:"Be who you are and say how you feel, because those who mind don't matter and those who matter don't mind." – Dr. Seuss
Peter Messineo
Accounting/Business Advisor
Education/Experience: 30 Years of Accounting Experience in Public Accounting Practice, Consulting, and Private Industry.
Describe your primary job at Source Direct: Helping inventors with Business setup, Accounting, and Taxes. 
Bio: Peter's firm has been in operations since 2008.  Experience has been providing accounting,
consulting and tax services to a broad based clientele, including business development,
manufacturing and distribution companies. 
Peter is a Certified Public Accountant, BBA in Accounting
from Pace University, and MBA in Finance from Long Island University.
Alfred the Butler
Lead Butler
Education/Experience: Ihave a Bachelor's Degree in Butling from the International Butler School in London. I also have 22 years experience as the Butler to the Duke and Duchess ofUpton Snodsbury, Worcestershire.
Describe your primary job at Source Direct:My primary job is making sure that Jerry is happy at all times. I deliver his newspaper, prepare his lunch, and bring celebratory champagne when new inventors sign on with Source Direct.
Bio:My careerstarted in England in 1957. I buttled a lot – then I moved to America and worked in a Vitamin Store for a stretch. That store closed, and then I abruptly was thrust into the world of Golf. After being the butler to an interesting Golf Ball Cleaner inventor, I decided to live my final years as a butler for a very successful project director. I guess you can say that I've "made it".
Favorite Quote to Live By: "No one is useless in this world who lightens the burdens of another." ― Charles Dickens
Alfred is a fictitiouscharacter from our podcast! Want to see where he came from? Check out Episode #17 –http://www.thesourcedirect.net/podcast/